ReBack: remote backup
ReBack is the offer for remote backup as proposed by Lixper and Towertech.

The main characteristic of the remore backup is that the data copy is phisically in a remote place and backup data are always simply available by means of a user-friendly web interface.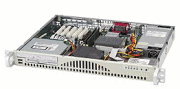 This service maintain on-line the complete backup for a certain period. The  data transmission is made used a crypted tunnel and data are stored (crypted) on redundant devices. The customer is the only-one person to have the key to access his own data.

For minimizing the use of the net, every time the backup starts only the different file are sent.

The acces to remote data is done by means of a normal web browser with cripted connection. Client and server are identified by digital certificate and even more the customer must insert the password for decrypting the remote data.

In case of disaster is possible to have a copy of all data on whatever device (hard disk, DVD or other) via courrier.

Our server are hosted by COLT Italia and guarantee the maximum security for phisical access and the net connection. In particular the bandwith in upload and download is till 1 mbit/s.

ReBack exists for GNU/Linux, SUN Solaris, IBM AIX, FreeBSD, HP-UX, Windows 2000, and Windows XP.